I've been wanting to do this for several weeks. Now is the best time to do it. Before ANTM Cycle 14 begins, I wanted to list my top favorite photo shoots in ANTM. (This doesn't necessarily mean the best photos but the photo shoot concept itself.)
I will start with no. 15 and I will countdown to the no. 1 photo shoot of all time....(so far)
15. Gender Swap (Cycle 8) - Back before there was Ru Paul's Drag Race, there was this photo shoot that gave way to the drag queens. The girls were dressed as men. I remember seeing this as one of the funniest photo shoots of its time.
14. Ninja Warriors (Cycle 13) - Cameron would have loved to see this photo shoot. I like it a lot. Specially Nicole's (picture). She was graceful at it too. It was about different weapons.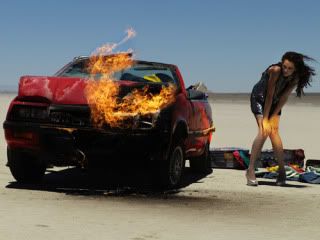 13. Blazing Car (Cycle 9) - Cycle 9 is definitely the worst cycle for me but there was this one contestant Heather to at least save that cycle from being really boring. This was the only photo shoot that I thought was awesome. They had to drive into the desert to get this picture.
12. Exotic Birds (Cycle 12) - They went to the jungle to do this photo shoot. This was a very colorful photo shoot. I don't know why Tyra and them switched it to sepia. Tsk Tsk..... The theme was supposed to be jungle birds which had a lot of color to it!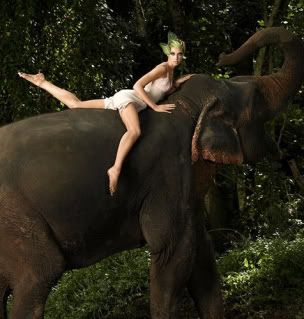 11. Elephant (Cycle 6) - Thailand was that season's (oops I meant CYCLE's) destination. In this photo shoot, they rode elephants to get to this destination. It was in the middle of some jungle. I'm sure it was fun being on top of those elephants.
10. Covergirl Ad (Cycle 3) - The ONLY good covergirl photo shoot. The rest are mediocre. I love the water on the background. It was a very nice photo shoot. The three finalists all had amazing shots.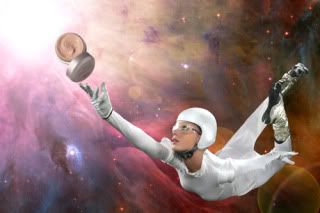 9. Outer Space (Cycle 7) - Not a lot of viewers liked this photo shoot but I sure did. They went on that air thingy to lift them up and they photo shopped them making it look like their in outer space. Loved loved loved this photo shoot.
8. Underwater Nymphs (Cycle 2) - I always wanted to do an under water photo shoot. This was the first of its kind. Very calming to look at. It was funny too cause most of the girls didn't know how to swim or submerged themselves under water.
7. Country Couture (Cycle 5) - I live in the Central Valley so this photo shoot is very easy to copy. Every time Cameron drives me towards the Bay Area, I see the oaks and I imagine all these wonderful photo shoot possibilities.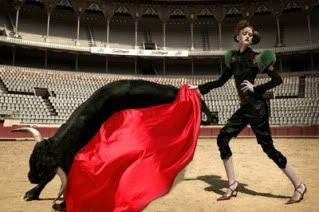 6. Bull Fight (Cycle 7) - This was the cycle they went to Spain. They did have bulls while they were shooting this. But I'm sure that bull in the picture did not get that close to her. But I remember this was the season of the twins. They looked very high fashion. Shame on the judges for eliminating them.
5. Posing Underwater (Cycle 13) - Last time they did an underwater photo shoot was Cycle 2. I was glad to see it was back. They need to do more of these. This was in Hawaii. It looks very refreshing. I wanna do that photo shoot too! Swimming with the sea creatures! Wee......
4. "Kloofing" (Cycle 4) - Top model has taught me at least one new word. "Kloofing". meaning you must travel by feet to get to a destination (for a photo shoot) because it is inaccessible by transportation. I loved that idea. Every time I go hiking I remember this. But then I don't have a model to do a photo shoot with. lol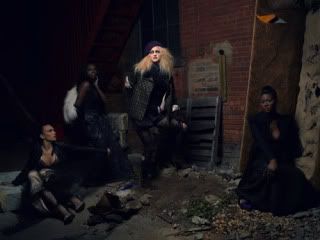 3. Homeless (Cycle 10) - How can I forget this photo shoot? I love bum fashion. There's something high fashion about it. And this cycle proved that.
2. Bi Racial (Cycle 13) - If you noticed, 3 out of 15 are from Cycle 13. Really great photo shoots! I remember blogging about this episode. I liked the concept. It was done at some sugar cane plantation and the girls had to look like a mixture between two ethnicity.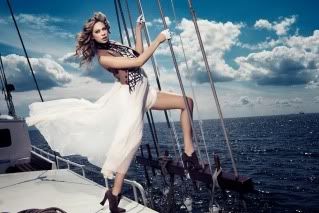 1. Voyage Ship Amsterdam (Cycle 11) - This is so far my favorite. I want to do this photo shoot. It looks fun. The theme was 17th century. All the elements in this photo shoot just worked out. The clouds. The sea. The ship. The clothes. Oh so cool. ARRRRR!!!!!
So there you go. My top favorite PHOTO SHOOTS. I'm excited to see what they have for Cycle 14!